Stolzsein King Of Knights
Caleb comes from a litter of 8 pups, 4 males and 4 females. He is a large substantial puppy with a strong head and strong bone. He has a dark eyes with dark pigmentation, clean markings and balanced angulation. He is a very forward and outgoing puppy and was nearly always the first to say hello when you walked in the room while they were still in the whelping box and he still is the first to say hello while with his litter mates.
Caleb is loved and owned by Richard and Samuel.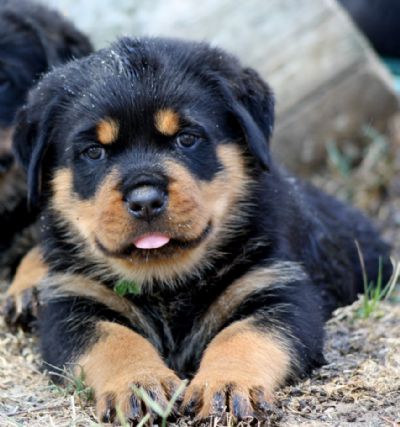 ---
Date of Birth - 5th January 2013

Sire

Multi V1, International Champion, Young Champion of Serbia, Adult Champion of Serbia, Champion of Romania, Champion of Hungary, Australian Champion,

Felix Crni Lotos (IMP Serbia) BH, IPO1 HDA ED1
(rescored in Australia
HD 2.2 ED 2.2)


Sire


International Champion, Young CH of Serbia, Adult CH of Serbia, Holland Jugensieger 2004,
Belgium Jugensieger 2004, ADRK KS 2004 Auslandsjugendsieger,
YU Rott Derby Winner 2004, Croatia Klubsieger 2005, Balkansieger 2005,
Hungaria Klubsieger 2005, Croatia Klubsieger 2007

Phyton Crni Lotos,
ADRK BH,AD, ZTP,
IPO I, NL MAG test
HD B, ED 0









Sire


Young CH of SERBIA, Adult CH of Serbia, YU Rott DERBY WINNER 2002, Holland Klubsieger BOB 2004, Belgium Klubsieger 2004, Belgium Klubsieger 2005 BOB,
Ramzes Crni Lotos,
IPO 1, NL MAG test
HD 0, ED 0



Sire


Multi V1 rated,
Gref CRNI Lotos (Serbia), PRM,CAC,R.CAC

HD Frei JRSP81972



Dam
YUGOSLAVIAN CH.,
Daisy CRNI Lotos, (Serbia), IPO I,
Young Yugoslavian CH.,
3 x PRM, 3 x R.CAC,
3 x CAC, HD-, ED 0




Dam
Alpha von Junipera
JR83036RW


Sire
Enzo vom Quellenburg
JR93770RW

Dam
Simi von Junipra
JR81261RW


Dam


International Champion ,Young Champion of Serbia and Monte Negro, Champion of Serbia and Monte Negro,

Dela kao Bumbarin,
IPO1, HD A, ED 0



Sire


Young CH of SERBIA, Adult CH of Serbia, YU Rott DERBY WINNER 2002, Holland Klubsieger BOB 2004, Belgium Klubsieger 2004, Belgium Klubsieger 2005 BOB,
Ramzes Crni Lotos,
IPO 1, NL MAG test
HD 0, ED 0





Sire
Multi V1 rated,
Gref CRNI Lotos (Serbia), PRM,CAC,R.CAC

HD Frei JRSP81972



Dam
YUGOSLAVIAN CH.,
Daisy CRNI Lotos, (Serbia), IPO I,
Young Yugoslavian CH.,
3 x PRM, 3 x R.CAC,
3 x CAC, HD-, ED 0




Dam
Beba

Sire


10 x V1 rated, SLV/SVK Champion Brando Von Kelemen (Serbia)

HD A, ED 0
Young Champion of Serbia, Adult Champion of Serbia



Dam
Cora - Lady
HD FCI A 1/2 ED FCI A 1/2

Dam
V1, Multi V Rated,
Ludendorf Imogene

HD: 1.0, ED: R2 L2,
Eyes Clear,
Scissors Bite
NRC[A] HD ED Eye and Mouth Certified #002341
DNA Profiled
#ROT19029

Sire
Australian Champion, National Rottweiler Council (Australia) Champion, BIS,RUBISS, Multi V1, Multi V rated,

Ludendorf Erik

HD 4.3, ED 0.0,
Scissors, Eyes Clear




Sire
Australian Champion, National Rottweiler Council (Australia) Champion, Multi BISS, Multi V1, Multi V, Allgemein Felix
HD 3.4, ED 1.1
Scissors, Eyes Clear








Sire
Multi V rated,
New Zealand
Champion,
Australian Champion,
Don-Guan v't
Detoricahof (Imp NDL)
HD 2.1, ED 0.0
Eye and Mouth Cert.



Dam
Multi V rated,
Kjeringa's Corona v Kernecht (IMP USA)
HD 5.4, ED 1.1



Dam
Multi V rated,
Bailifscourt Aboss Aria (AI)
HD 1.4, ED 0.1,
Scissors, Eyes Clear

Sire
Select American
Champion
Boss vd Biestse Hoeve
SchH III, CD,TD, BH,
ZtP, CGC,
ARC Silver Sire,
RO-24301G25M,
RO-1197



Dam
Australian Champion
Ormslee Elite Empress (AI)
HD: 4.9, ED B.1



Dam


Multi V rated,

Ludendorf Fallon (AI)

HD 3.3, ED 0.0,
Scissors Eyes Clear




Sire
Multi V1, RUBISS,
Utz vom Hause Miles
SchH3 BH CGC RO-53691G71M-PI, RO-EL2180M24-T
HD 2.2 ED1.1
(re-xrayed in Australia )





Sire
Am/Can CH
Montclaire's Blitzkrieg CD
RO-32175G24M-T





Dam
Quendy vom Hause Miles
RO-45345F26F-T

Dam


Multi V rated,
Bailifscourt Aboss Aria (AI)
HD 1.4, ED 0.1
Scissors, Eyes Clear




Sire
Select American
Champion
Boss vd Biestse Hoeve
SchH III, CD,TD, BH,
ZtP, CGC,
ARC Silver Sire,
RO-24301G25M,
RO-1197



Dam
Australian Champion
Ormslee Elite Empress (AI)
HD: 4.9, ED B.1