Ludendorf Imogene
Imme is a busy girl and justs loves to have fun, she has an independent nature and displays a willingness to please. She has grown into a substantial medium / large size bitch with a strong feminine head with dark eyes and pigmentation. She has a compact body with excellent top and underlines, strong bone, her angulation is correct and she moves with excellent reach and drive.
Imme is also known here as a Mud Monster or MM for short. She was our original MM and has since taught her pups and other yard mates to do the same, the MM's only arrive after we have had some rain. We have a number of MM shots of our dogs, we hope they bring a smile to your face. Imme also likes playing with balls, whether it is a large hard plastic ball or a small rubber one, she really loves a game of fetch and playing soccer.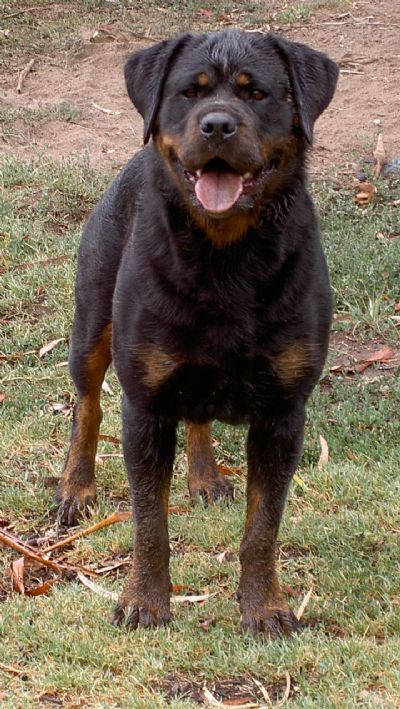 HD: 1.0, ED: R2 L2, Eyes Clear, Scissors Bite
NRC[A] HD ED Eye and Mouth Certified #002341
DNA Profiled#ROT19029 DOB: 27th February 2006
Imme received her first V grading under Herr Helmut Weiler (ADRK) at 12 months and 4 days at the Rottweiler Club of Victoria Championship Show in March 2007. She followed that up at the Rottweiler Club of NSW Championship Show on 30, 31 March - 1st April 2007 at 13 months with a V2 under Herr Edgar Hellman (ADRK).

Imme was awarded V1, Intermediate Bitch and Opposite Intermediate In Show at the Northern Districts Rottweiler Club of NSW September 2007 under Judge: Mr M Jackman (Canada), from the Intermediate class (18 months to 36 months) at 18 months of age.

Imme is a producer of Class in Specialty Winning Progeny from her two litters.
Immes pedigree;

Sire

Australian Champion, National Rottweiler Council (Australia) Champion, BIS,RUBISS, Multi V1, Multi V rated,

Ludendorf Erik

HD 4.3, ED 0.0,
Scissors, Eyes Clear




Sire
Australian Champion, National Rottweiler Council (Australia) Champion, Multi BISS, Multi V1, Multi V, Allgemein Felix
HD 3.4, ED 1.1
Scissors, Eyes Clear




Sire
Multi V rated,
New Zealand Champion, Australian Champion,
Don-Guan v't Detoricahof (Imp NDL)
HD 2.1, ED 0.0,
Eye and Mouth Cert.



Sire
Gismo Stortebecker
ADRK82596 (GMY)
HD frei

Dam
Anou v't Detoricahof
NHSB1918212 (NDL)


Dam
Multi V rated,
Kjeringa's Corona v Kernecht (IMP USA)
HD 5.4, ED 1.1

Sire
Int./DT.VDH-CH ES'93 KS'91'92
Noris vom Gruntenblick SchH III FH AD BH IPO III Gekort bis EzA HD +/-



Dam


Kernecht's Jezi V Stolzenfels

RO-55392F27F

Dam
Multi V rated,
Bailifscourt Aboss Aria (AI)
HD 1.4, ED 0.1,
Scissors, Eyes Clear

Sire
Select American Champion Boss vd Biestse Hoeve SchH III, CD,TD, BH, ZtP, CGC,ARC Silver Sire, RO-24301G25M, RO-1197




Sire
BISS FCI Int'l/Am/Bel/Can/Lux/Ned CH Barto van 't Straotje IPO III, Am/Can TD,
RO-16980G25M-T,
CERF:RO-794






Dam
Dagmar vd Biestse Hoeve


RO-21161G

Dam
Best Brood Bitch In Specialty Show,
V1 and Multi V Rated,
Australian Champion
Ormslee Elite Empress (A) (AI)
HD: 4.9, ED B.1




Sire
BIS, Multi BISS,
Select Am CH
Ironwood's Cade Am CD CGC, RO-10845-T,
RO-1629, OFA Good



Dam
Ormslee Yasu (A)
HD 0.1 ED 0.1

Dam

Multi V rated,

Ludendorf Fallon (AI)

HD 3.3, ED 0.0,
Scissors, Eyes Clear



Sire
Multi V1, RUBISS,
Utz vom Hause Miles
SchH3 BH CGC RO-53691G71M-PI, RO-EL2180M24-T
HD 2.2 ED1.1
(re-xrayed in Australia )


Sire
Am/Can CH
Montclaire's Blitzkrieg CD
RO-32175G24M-T





Sire
Canadian Champion
Petz vom Aalener Spion


Dam
Canadian Champion
Minkhollow's Briana
Am/CDN CD


Dam
Quendy vom Hause Miles
RO-45345F26F-T

Sire
'93 ARV Nat'l Sieger,'94 ARV Nat'l SchH CH Jeneck's Wotan SchH III, IPO III, FH, AD, Korung, ZtP, RO-34654G



Dam
Imme vom Hause Miles
SchIII FH AD IPOIII Gekort bis EzA HD-,
RO-11713-T

Dam

Multi V rated,
Bailifscourt Aboss Aria (AI)
HD 1.4, ED 0.1,
Scissors, Eyes Clear

Sire


Select American Champion

Boss vd Biestse Hoeve

SchH III, CD,TD, BH, ZtP, CGC,ARC Silver Sire, RO-24301G25M, RO-1197


Sire
BISS FCI Int'l/Am/Bel/Can/Lux/Ned CH Barto van 't Straotje IPO III, Am/Can TD, RO-16980G25M-T,
CERF:RO-794




Dam
Dagmar vd Biestse Hoeve


RO-21161G

Dam
Best Brood Bitch In Specialty Show,
V1 and Multi V Rated,
Australian Champion
Ormslee Elite Empress (A) (AI)
HD: 4.9, ED B.1


Sire
BIS, Multi BISS,
Select Am CH
Ironwood's Cade Am CD CGC, RO-10845-T,
RO-1629, OFA Good



Dam
Ormslee Yasu (A)
HD 0.1, ED 0.1
Click here for an extended pedigree for Imme