Stolzsein Candy Coated Kisses
Multi V Rated, Multi BIS Neuter, Multi RUBIS Neuter,
Neuter Grand Champion, Australian Champion, Stolzsein Candy Coated Kisses

CC has grown into a medium size girl with strong bone and excellent substance, she has a strong feminine head, excellent top and underlines for her age and she covers the ground with ease.

CC is a happy girl and loves to play with her ball. Her playfull attitude and willingness is a pleasure to train and live with. She has done well in the All Breed Ring obtaining her Australian Championship title with ease. She also shows great promise in tracking and obedience.

The Specialty Ring has seen her awarded Multiple V Ratings in very strong company as well as being awarded VP1 - Opposite Puppy In Show at the Rottweiler Club of South Australia 33rd Championship Show June 2009

Unfortunately CC had to be desexed at the age of 5 years in May 2014 and now she is exhibited in the Open Neuter Classes. We would like to thank all the Clubs that have embraced and supported the Neuter Classes. It has been great to see the number of Neuters being shown increase over the years and we hope that this class will be supported by more Clubs in the future.

*** CC creates Australian History for the Rottweiler, she is the first to be awarded the title of Neuter Grand Champion ***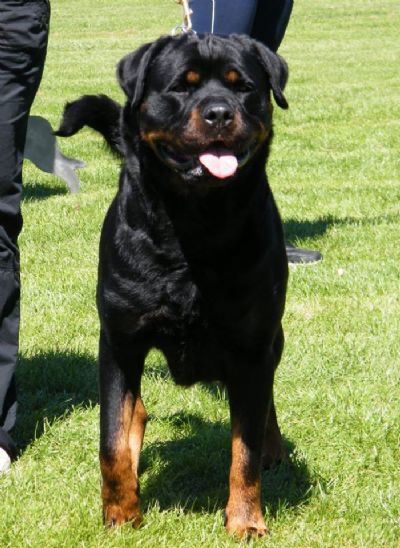 CC @ 5 years old - November 2013
HD 2.2, ED 0.0, Eyes Clear and Correct Dentition
National Rottweiler Council [Australia] Paperwork # 002284
DNA Profiled, LCG Clear, JLPP Clear

CC is a twin to Cannon and both these pups were very small when born compared to their 8 other siblings. CC may be medium in size but she has developed a very large personality. This girl enjoys getting pats and cuddles and just wants to be with you regardless of what you are doing. She, like her mother loves to play ball and also enjoys playing fetch. Also like her mother, CC is prone to transforming into a Mud Monster when the weather is appropriate.
DOB: 12th September 2008


Sire

V Rated,
Stolzsein JQ Urthe Bosch, HT

HD 2.3, ED R0 L0
E & M Cert
NRCA#001055

Sire

Multi V1, Multi BISS, Australian Champion Jenecks Quik BH, Ztp (IMP USA), HD: 0.0, Eye and Mouth Cert.

Sire

Multi ARV Sieger, V-1,
Jenecks Wotan, SchH111, IPO111, FH, BH, AD, Gekort bis EzA, Korung, ARC Gold Producer Award 1998, WP0309384, RO-3465G24M-T



Sire

KJS '82, USRC KS'88, V-1 Timm vom Mummler, SchH111, WF90502, RO-088720T

Dam

Rita vom Sonnenburg,
SchH I, ADRK 49130



Dam


Multi V, Jenecks Bessy, Ztp, BH

Sire
V1 Oleo vom Haus Schmidgall,SchH111, IPO111, RO-9994-T, WF57052




Dam
'92 Siegerin, Most Beautiful Female,
Multi V-1
Donna vom Schwaiger Wappen, ZtP,
WG151406OFA Good



Dam


Multi V1, RUBISS, '98 RCV Siegerin,
Australian Champion, Linbedach Twist N Shout

HD: 3.6, ED: R2 L1

E & M Cert
NRCA Breed Survey Pass



Sire

Multi V rated,
Australian Champion, Linbedach My Dakota
HD: 1.0, ED: R2 L2,
E & M Cert.



Sire

Australian Champion,
Jagen Blue Mandinka
(Imp UK),
HD: 4:4 Grade 1,
E & M Cert.



Dam

Australian Champion,
Jagen Blue Mandinka
(Imp UK),
HD: 4:4 Grade 1,
E & M Cert.



Dam

Australian Champion,
Linbedach Brooke Shields
HD 5.3, E & M Cert.



Sire


Rozeashas Emporer Nero
HD: 4.5 Grade 1,
E & M Cert.
ANKC Pointed

Dam

Australian Champion,
Linbedach My Destiny
HD: 3.1, ED R1/L0,
E & M Cert

Dam
V1, Multi V Rated,
Ludendorf Imogene

HD: 1.0, ED: R2 L2,
Eyes Clear,
Scissors Bite
NRC[A] HD ED Eye and Mouth Certified #002341
DNA Profiled
#ROT19029

Sire
Australian Champion, National Rottweiler Council (Australia) Champion, BIS,RUBISS, Multi V1, Multi V rated,

Ludendorf Erik

HD 4.3, ED 0.0,
Scissors, Eyes Clear

Sire
Australian Champion, National Rottweiler Council (Australia) Champion, Multi BISS, Multi V1, Multi V, Allgemein Felix
HD 3.4, ED 1.1
Scissors, Eyes Clear





Sire
Multi V rated,
New Zealand
Champion,
Australian Champion,
Don-Guan v't
Detoricahof (Imp NDL)
HD 2.1, ED 0.0
Eye and Mouth Cert.


Dam
Multi V rated,
Kjeringa's Corona v Kernecht (IMP USA)
HD 5.4, ED 1.1


Dam
Multi V rated,
Bailifscourt Aboss Aria (AI)
HD 1.4, ED 0.1,
Scissors, Eyes Clear

Sire
Select American
Champion
Boss vd Biestse Hoeve
SchH III, CD,TD, BH,
ZtP, CGC,
ARC Silver Sire,
RO-24301G25M,
RO-1197


Dam
Australian Champion,
Ormslee Elite Empress (AI)
HD: 4.9, ED B.1


Dam

Multi V rated,

Ludendorf Fallon (AI)

HD 3.3, ED 0.0,
Scissors Eyes Clear



Sire
Multi V1, RUBISS,
Utz vom Hause Miles
SchH3 BH CGC RO-53691G71M-PI, RO-EL2180M24-T
HD 2.2 ED1.1
(re-xrayed in Australia )




Sire
Am/Can CH
Montclaire's Blitzkrieg CD
RO-32175G24M-T




Dam
Quendy vom Hause Miles
RO-45345F26F-T

Dam

Multi V rated,
Bailifscourt Aboss Aria (AI)
HD 1.4, ED 0.1
Scissors, Eyes Clear




Sire
Select American
Champion
Boss vd Biestse Hoeve
SchH III, CD,TD, BH,
ZtP, CGC,
ARC Silver Sire,
RO-24301G25M,
RO-1197


Dam
Australian Champion,
Ormslee Elite Empress (AI)
HD: 4.9, ED B.1

Click here to view an extended pedigree for CC