Stolzsein Cannon Bolt
Multi V Rated, NRC(A) Champion,
Australian Champion, Stolzsein Cannon Bolt

Cannon is a medium to large size male. He has strong bone with excellent substance, a strong masculine head with dark eyes and pigmentation. He has balanced angulations and a compact body. He covers the ground effectively and easily with a strong level topline and has clean mahogany markings. Cannon displays a confident and outgoing nature, he has a willingness to please and is a pleasure to work with.

We look forward to campaigning him in both the All Breed and Specialty Rings. Cannon is already a producer of Multi V rated progeny from his first litter.

Cannon is a playful dog who loves all the attention he can get. He takes all in his stride and accepts any situation with ease and with calmness. He is biddable and enjoys working and does so with great enthusiasm. He is a very socialable dog and is great with the baby puppies.

We look forward to what the future may bring for him.
We are very grateful to Dr Karen Bentley and Paul Sbrissa for taking great care of Cannon.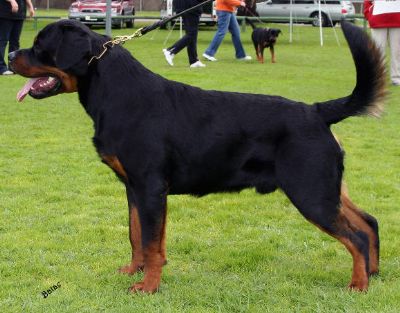 Above picture - Cannon winning Best Puppy In Show at the
Rottweiler Club of South Australia 33rd Championship Show June 2009
Judge - Kate Pinches (Greece) (9 months old)
A week later Cannon is again awarded
Best Puppy In Show at the Rottweiler Club of Victoria Open Show 2009
Judge - Mr Mick Svaljek
Cannon has a lot of character and a willingness to please, he is a very social dog and very playful. Cannon is a twin to our CC and although only a medium size dog he too like his twin has a very large personality. Cannon is also known as a Mud Monster here and at times he has excelled himself in keeping up the MM tradition. His best MM attempt was captured and this picture of him is below. This picture also won a photo competition on a working dog forum, no doubt he made many people laugh at his smiling mud face.
HD: 1.1, ED: R1 L2, Eyes Clear, Scissors Bite,
NRC[A] HD ED Eye and Mouth Certified #002772
Breed Survey Pass, DNA Profiled
DOB: 12th September 2008


Sire

V Rated,
Stolzsein JQ Urthe Bosch, HT

HD 2.3, ED R0 L0
E&M Cert
NRCA#001055

Sire

Multi V1, Multi BISS, Australian Champion Jenecks Quik BH, Ztp (IMP USA), HD: 0.0, Eye and Mouth Cert.





Sire

Multi ARV Sieger, V-1,
Jenecks Wotan, SchH111, IPO111, FH, BH, AD, Gekort bis EzA, Korung, ARC Gold Producer Award 1998, WP0309384, RO-3465G24M-T



Sire

KJS '82, USRC KS'88, V-1 Timm vom Mummler, SchH111, WF90502, RO-088720T

Dam
V-1 Cira vom Eselsburgertal Ztp , BH,WG052105, RO-3522G25F-T (Gmy)



Dam


Multi V, Jenecks Bessy, Ztp, BH

Sire

V1 Oleo vom Haus Schmidgall,SchH111, IPO111, RO-9994-T, WF57052


Dam

'92 Siegerin, Most Beautiful Female,
Multi V-1
Donna vom Schwaiger Wappen, ZtP,
WG151406OFA Good


Dam


Multi V1, RUBISS, '98 RCV Siegerin,
Australian Champion, Linbedach Twist N Shout

HD: 3.6, ED: R2 L1

E & M Cert
NRCA Breed Survey Pass



Sire

Multi V rated,
Australian Champion, Linbedach My Dakota
HD: 1.0, ED: R2 L2,
E & M Cert.



Sire

Australian Champion,
Jagen Blue Mandinka
(Imp UK),
HD: 4:4 Grade 1,
E & M Cert.



Dam

Australian Champion,
Jagen Blue Mandinka
(Imp UK),
HD: 4:4 Grade 1,
E & M Cert.



Dam

Australian Champion,
Linbedach Brooke Shields
HD 5.3, E & M Cert.



Sire


Rozeashas Emporer Nero
HD: 4.5 Grade 1,
E & M Cert.
ANKC Pointed

Dam

Australian Champion,
Linbedach My Destiny
HD: 3.1, ED R1/L0,
E & M Cert

Dam
V1, Multi V Rated,
Ludendorf Imogene

HD: 1.0, ED: R2 L2,
Eyes Clear,
Scissors Bite
NRC[A] HD ED Eye and Mouth Certified #002341
DNA Profiled
#ROT19029

Sire
Australian Champion, National Rottweiler Council (Australia) Champion, BIS,RUBISS, Multi V1, Multi V rated,

Ludendorf Erik

HD 4.3, ED 0.0,
Scissors, Eyes Clear

Sire
Australian Champion, National Rottweiler Council (Australia) Champion, Multi BISS, Multi V1, Multi V, Allgemein Felix
HD 3.4, ED 1.1
Scissors, Eyes Clear





Sire
Multi V rated,
New Zealand
Champion,
Australian Champion,
Don-Guan v't
Detoricahof (Imp NDL)
HD 2.1, ED 0.0
Eye and Mouth Cert.


Dam
Multi V rated,
Kjeringa's Corona v Kernecht (IMP USA)
HD 5.4, ED 1.1


Dam
Multi V rated,
Bailifscourt Aboss Aria (AI)
HD 1.4, ED 0.1,
Scissors, Eyes Clear

Sire
Select American
Champion
Boss vd Biestse Hoeve
SchH III, CD,TD, BH,
ZtP, CGC,
ARC Silver Sire,
RO-24301G25M,
RO-1197


Dam
Australian Champion,
Ormslee Elite Empress (AI)
HD: 4.9, ED B.1


Dam

Multi V rated,

Ludendorf Fallon (AI)

HD 3.3, ED 0.0,
Scissors Eyes Clear



Sire
Multi V1, RUBISS,
Utz vom Hause Miles
SchH3 BH CGC RO-53691G71M-PI, RO-EL2180M24-T
HD 2.2 ED1.1
(re-xrayed in Australia )




Sire
Am/Can CH
Montclaire's Blitzkrieg CD
RO-32175G24M-T




Dam
Quendy vom Hause Miles
RO-45345F26F-T

Dam

Multi V rated,
Bailifscourt Aboss Aria (AI)
HD 1.4, ED 0.1
Scissors, Eyes Clear




Sire
Select American
Champion
Boss vd Biestse Hoeve
SchH III, CD,TD, BH,
ZtP, CGC,
ARC Silver Sire,
RO-24301G25M,
RO-1197


Dam
Australian Champion,
Ormslee Elite Empress (AI)
HD: 4.9, ED B.1

Click

here
to view an extended pedigree for Cannon