Stolzsein House Of Prada
Miss Prada was one of 10 in her litter of 6 females and 4 males.

Prada is a strong female with excellent bone and substance, she has a great attitude and is a real show girl who demands your attention. Prada looks to have a bright future in both the Show Ring and the Working Arena.

We thank Chris Coles her co-ownes who has been doing a super job with Prada and we look forward to what the future may bring for pretty Miss Prada.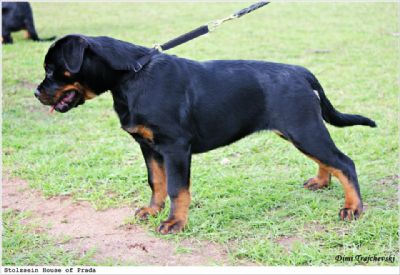 Her first show at 3.5 months of age at the Rottweiler Club of South Australia Championship Show 15th June 2012, Prada is awarded VP3 from a very strong class with an entry of 18 in Baby Puppy Bitch.
To see more pictures of Prada, scoll to the bottom of the page.
---
Pedigree for Stolzsein House Of Prada

DOB: 1st March 2012

Sire


V1, Multi V rated,
Multi Class In Specialty, VP1,
Multi VP rated,

Clyzan Saphiras Eragon

HD 0.1, ED 0.0
DNA Profiled




Sire

Multi V1, Multi V Rated,
National Rottweiler Council Australia Champion

Ludendorf Frodo (AI)

HD 0.3, ED 0.0





Sire

Multi V1, Runner Up Best In Specialty Show,
Utz vom Hause Miles
(IMP USA),
SchH111, BH, CGC,

RO-53691G71M-PI,
EL2180M24-T,
HD 2.2, ED 1.1,
(re-xrayed in Australia)


Sire

Am/Can CH
Montclaire's Blitzkrieg CD
RO-32175G24M-T



Dam
Quendy vom Hause Miles
RO-45345F26F-T

Dam

Multi V Rated,
Bailifscourt Aboss Aria (AI)

HD 1.4, ED 0.1
Scissors, Eye Clear

Sire

Select American Champion Boss vd Biestse Hoeve SchH III, CD,TD, BH, ZtP, CGC,ARC Silver Sire, RO-24301G25M, RO-1197

Dam


Australian Champion
Ormslee
Elite Empress (A) (AI)

HD: 4.9, ED B.1



Dam


Multi V Rated, National Rottweiler Council Australia Champion,

Brescott Saphiras Storm


HD 2.1, ED 2.2

Sire


Multi V1, Multi V rated ,

Nico Crni Lotos,
(IMP via Portugal -
from Serbia)

HD 0.0, ED 0.0



Sire

10 x V1 rated, SLV/SVK Champion, Brando Von Kelemen (Serbia), HD A, ED 0, Young Champion of Serbia, Adult Champion of Serbia



Dam


V rated,

Roma CRNI Lotos (Serbia)

HD Frei, ED Frei,
SP94619RW


Dam

Multi V rated,
Australian Champion
Brescot Rising Storm

HD 1.1 ED 0.0

Sire


Australian Champion
Kalrissan Amra
HD 0.3, ED 1.1



Dam

Australian Champion
Terrac Casta Spell
HD 2.3

Dam

Multi V Rated,

Australian Champion,
Stolzsein Candy Coated Kisses

HD 2.2, ED 0.0,
Scissors,
Eyes Clear,
DNA Profiled




Sire

V Rated,
Stolzsein JQ Urthe Bosch, HT

HD 2.3 ED 0.0
Scissors, Eyes Clear

NRCA #001055
DNA #ROT19030


Sire

Multi V1, Multi Best In Specialty Show,
Australian Champion
Jenecks Quik,
BH, Ztp (IMP USA)

HD 0.0
Scissors, Eyes Clear




Sire

Multi ARV Sieger, Multi V1,
Jenecks Wotan (USA)
SchH111, IPO111, FH, BH, AD, Gekort bis EzA, Korung, ARC Gold Producer Award 1998, WP0309384, RO-3465G24M-T



Dam

Multi V Rated
Jenecks Bessy (USA)
Ztp, BH



Dam

Multi V1, Multi V Rated, Runner Best In Specialty Show, '98 RCV Siegerin, Australian Champion
Linbedach Twist N Shout

HD 3.6, ED 2.1
Scissors, Eyes Clear
NRCA Breed Survey Pass



Sire

Multi V Rated,
Australian Champion
Linbedach My Dakota
HD 1.0, ED 2.2
Scissors, Eyes Clear




Dam

Australian Champion
Linbedach Brooke Shields
HD 5.3
Scissors, Eyes Clear


Dam

V1, Multi V Rated,
Ludendorf Imogene

HD 1.0, ED 2.2
Scissors, Eyes Clear
NRCA #002341
DNA #ROT19029



Sire

Multi V1, Multi V Rated,
Best In Show,
Runner Up Best In Specialty Show,
National Rottweiler Council [Australia] Champion,
Australian Champion,
Ludendorf Erik

HD 4.3, ED 0.0
Scissors, Eyes Clear


Sire

V1, Multi V Rated,
Multi Best In Specialty Show,
National Rottweiler Council [Australia] Champion,
Australian Champion
Allgemein Felix
HD 4.3, ED 1.1
Scissors, Eye Clear


Dam

Multi V Rated,
Bailifscourt Aboss Aria (AI)
HD 1.4, ED 0.1
Scissors, Eye Clear


Dam

Multi V Rated,
Ludendorf Fallon (AI)

HD 3.3, ED 0.0
Scissors, Eyes Clear



Sire

Multi V1, Runner Up Best In Specialty Show,
Utz vom Hause Miles
(IMP USA),
SchH111, BH, CGC,
RO-53691G71M-PI,
EL2180M24-T,
HD 2.2, ED 1.1,
(re-xrayed in Australia)


Dam

Multi V Rated,
Bailifscourt Aboss Aria (AI)
HD 1.4, ED 0.1
Scissors, Eye Clear