Stolzsein Ets EJ Whitten (AI) CD. RA. HT
EJ was known as the Red dog in his litter. EJ has matured into a very large dog with dark eyes and pigmentation. He has balanced angulations and has powerful ground covering movement, clean rich markings and he has a very open and out going temperament. EJ is showing great promise in the working arena.

2012 has been a great year for Keith and EJ, they have been awarded two obedience titles (CD and CCD) and have also been awarded a Herding Title (HT). EJ has been shown sparingly in the All Breeds ring and is well on his way to his Australian Conformation Title. Multi VP rated as a youngster in the Specialty Ring and at his first Specialty Show as an adult EJ was awarded V9 in a very strong class of Intermediate dogs.

EJ resides and is loved by Keith and Sharon Notley and we thank them for taking great care of this boy. EJ and Keith are proving that that have a very bright future in the working arena.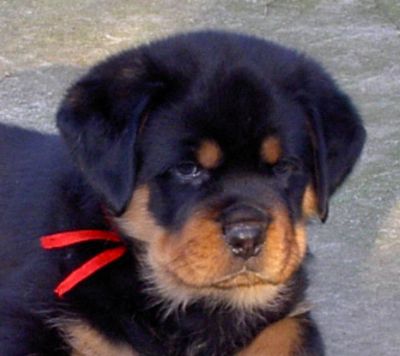 (EJ at 7 weeks old)

HD 1.0, ED 0.0, Eyes Clear and Correct Dentition
National Rottweiler Council [Australia] Paperwork # 002858
DNA Profiled, LCG Clear, JLPP Clear
DOB: 27th June 2010
EJ was x-rayed at 24 months old
---
Pedigree for; Stolzsein Ets EJ Whitten (AI)

Sire

V1, Multi V rated

Nico Crni Lotos

(SCG) (IMP PORTUGAL)
HD 0.0 ED 0.0
Eye and Mouth Certificate
DNA #ROT18108




Sire

10 x V1 rated, SLV/SVK Champion Brando Von Kelemen (Serbia)

HD A, ED 0
Young Champion of Serbia, Adult Champion of Serbia






Sire
Flip CRNI Lotos (Serbia) SP 82726 RW






Sire
SLV/SVK CH. Beni IPO1 (Serbia), JRSp 81301, HD-, 18 CAC, 2 CACIB, R.CACIB, 10 BOB, 2 BOG, R.BIS, JCHYu, CH YU, IPO1, V1 Spec. Rott. Show RO


Dam
Bessy Vom Haus Krammer IPO1 (Serbia) IPO I, 2 x PRM, 2 x CAC, PR, 1 x P.RASE
Sp 81367 Rw



Dam
Klub Siegeren'96 {Serbia} V-1 rated, Yug CH Alexandra V D Schwarze Wolke (Serbia) PRM 2xCAC, R.CAC,
HD Frei, ED Frei



Sire
Int CH. Brando Von Der Wasserwald (Hun),
IPO I, Bk.HCH-'94 Leger, HDGY, 12 CAC, 2 R-CACIB, HPJ, 4 x BOB, 5 x R-CAC, '93 lege kan GYOGY, HCS Top Stud, MET.7860/91, HD-


Dam
Garay Von Jocky Bel
(Hun), MET.Rott.6196/93

Dam

V rated,

Roma CRNI Lotos (Serbia)

HD Frei, ED Frei

SP94619RW



Sire

Multi V1 rated,
Gref CRNI Lotos (Serbia), PRM,CAC,R.CAC

HD Frei JRSP81972



Sire
SLV/SVK CH. Beni IPO1 (Serbia), JRSp 81301, HD-, 18 CAC, 2 CACIB, R.CACIB, 10 BOB, 2 BOG, R.BIS, JCHYu, CH YU, IPO1, V1 Spec. Rott. Show RO


Dam
Bessy Vom Haus Krammer
(Serbia) IPO I, 2 x PRM,
2 x CAC, PR, 1 x P.RASE
Sp 81367 Rw



Dam
YUGOSLAVIAN CH.,
Daisy CRNI Lotos IPO1 (Serbia), IPO I,
Young Yugoslavian CH.,
3 x PRM, 3 x R.CAC,
3 x CAC, HD-, ED 0



Sire
Pasha Von Junipera
(Serbia), 4 x PRM,
JRSp 81294 Rot., DH A



Dam
Lady (Serbia),
2 x PRM,
R.CAC. CAC,
JRSp 81309 Rot.

Dam
V1, Multi V rated, Ludendorf Imogene
HD: 1.0, ED: R2 L2, Eyes Clear,
Scissors Bite
NRC[A] HD ED Eye and Mouth Certified #002341
DNA Profiled
#ROT19029

Sire
Australian Champion, National Rottweiler Council (Australia) Champion, BIS,RUBISS, Multi V1, Multi V rated,

Ludendorf Erik

HD 4.3, ED 0.0,
Scissors, Eyes Clear

Sire
Australian Champion, National Rottweiler Council (Australia) Champion, Multi BISS, Multi V1, Multi V, Allgemein Felix
HD 3.4, ED 1.1
Scissors, Eyes Clear





Sire
Multi V rated,
New Zealand
Champion,
Australian Champion,
Don-Guan v't
Detoricahof (Imp NDL)
HD 2.1, ED 0.0
Eye and Mouth Cert.


Dam
Multi V rated,
Kjeringa's Corona v Kernecht (IMP USA)
HD 5.4, ED 1.1


Dam
Multi V rated,
Bailifscourt Aboss Aria (AI)
HD 1.4, ED 0.1,
Scissors, Eyes Clear

Sire
Select American
Champion
Boss vd Biestse Hoeve
SchH III, CD,TD, BH,
ZtP, CGC,
ARC Silver Sire,
RO-24301G25M,
RO-1197


Dam
Australian Champion
Ormslee Elite Empress (AI)
HD: 4.9, ED B.1


Dam

Multi V rated,

Ludendorf Fallon (AI)

HD 3.3, ED 0.0,
Scissors, Eyes Clear

Sire
Multi V1, RUBISS,
Utz vom Hause Miles
SchH3 BH CGC RO-53691G71M-PI, RO-EL2180M24-T
HD 2.2 ED1.1
(re-xrayed in Australia )




Sire
Am/Can CH
Montclaire's Blitzkrieg CD
RO-32175G24M-T




Dam
Quendy vom Hause Miles
RO-45345F26F-T

Dam

Multi V rated,
Bailifscourt Aboss Aria (AI)
HD 1.4, ED 0.1,
Scissors, Eyes Clear




Sire
Select American
Champion
Boss vd Biestse Hoeve
SchH III, CD,TD, BH,
ZtP, CGC,
ARC Silver Sire,
RO-24301G25M,
RO-1197


Dam
Australian Champion
Ormslee Elite Empress (AI)
HD: 4.9, ED B.1