Stolzsein Classic Chevrolet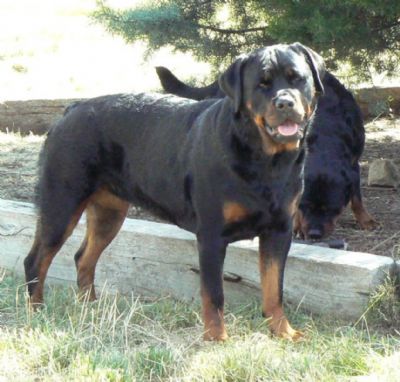 DOB: 12th September 2008
HD *11.2, ED 0.0, Eyes Clear and Correct Dentition

Chevy is a very large and substantial girl and she is happy being with you and helping or off doing her own thing. Chevy was formally known as the Yellow girl in her litter of 10. She has now grown into a very large bitch with strong bone and excellent substance. Chevy is showing good working drives and is a pleasure to live with. She is very sociable and enjoys meeting new people and doing new things.

*Chevy sustained a serious injury to her rear right leg and hip at 6 months of age and as was expected, she scored a little high on that hip.

She is loved and cared for by Dr Karen Bentley and Paul Sbrissa and we thank them very much for taking such good care of Chevy.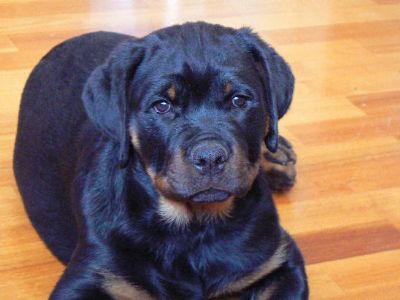 ---
DOB: 12th September 2008

Sire

V Rated,
Stolzsein JQ Urthe Bosch, HT

HD 2.3, ED R0 L0
E & M Cert
NRCA#001055

Sire





Multi V1, Multi BISS, Australian Champion Jenecks Quik BH, Ztp (IMP USA), HD: 0.0, Eye and Mouth Cert.




Sire


Multi ARV Sieger, V-1,
Jenecks Wotan, SchH111, IPO111, FH, BH, AD, Gekort bis EzA, Korung, ARC Gold Producer Award 1998, WP0309384, RO-3465G24M-T



Sire


KJS '82, USRC KS'88, V-1 Timm vom Mummler, SchH111, WF90502, RO-088720T




Dam

Rita vom Sonnenburg,
SchH I, ADRK 49130



Dam



Multi V, Jenecks Bessy, Ztp, BH




Sire
V1 Oleo vom Haus Schmidgall,SchH111, IPO111, RO-9994-T, WF57052





Dam
'92 Siegerin, Most Beautiful Female,
Multi V-1
Donna vom Schwaiger Wappen, ZtP,
WG151406OFA Good




Dam



Multi V1, RUBISS, '98 RCV Siegerin,
Australian Champion, Linbedach Twist N Shout

HD: 3.6, ED: R2 L1

E & M Cert
NRCA Breed Survey Pass



Sire


Multi V rated,
Australian Champion, Linbedach My Dakota
HD: 1.0, ED: R2 L2,
E & M Cert.



Sire

Australian Champion,
Jagen Blue Mandinka
(Imp UK),
HD: 4:4 Grade 1,
E & M Cert.




Dam

Australian Champion,
Jagen Blue Mandinka
(Imp UK),
HD: 4:4 Grade 1,
E & M Cert.




Dam

Australian Champion,
Linbedach Brooke Shields
HD 5.3, E & M Cert.



Sire



Rozeashas Emporer Nero
HD: 4.5 Grade 1,
E & M Cert.
ANKC Pointed

Dam

Australian Champion,
Linbedach My Destiny
HD: 3.1, ED R1/L0,
E & M Cert

Dam
V1, Multi V Rated,
Ludendorf Imogene

HD: 1.0, ED: R2 L2,
Eyes Clear,
Scissors Bite
NRC[A] HD ED Eye and Mouth Certified #002341
DNA Profiled
#ROT19029

Sire
Australian Champion, National Rottweiler Council (Australia) Champion, BIS,RUBISS, Multi V1, Multi V rated,

Ludendorf Erik

HD 4.3, ED 0.0,
Scissors, Eyes Clear




Sire
Australian Champion, National Rottweiler Council (Australia) Champion, Multi BISS, Multi V1, Multi V, Allgemein Felix
HD 3.4, ED 1.1
Scissors, Eyes Clear








Sire
Multi V rated,
New Zealand
Champion,
Australian Champion,
Don-Guan v't
Detoricahof (Imp NDL)
HD 2.1, ED 0.0
Eye and Mouth Cert.



Dam
Multi V rated,
Kjeringa's Corona v Kernecht (IMP USA)
HD 5.4, ED 1.1



Dam
Multi V rated,
Bailifscourt Aboss Aria (AI)
HD 1.4, ED 0.1,
Scissors, Eyes Clear

Sire
Select American
Champion
Boss vd Biestse Hoeve
SchH III, CD,TD, BH,
ZtP, CGC,
ARC Silver Sire,
RO-24301G25M,
RO-1197



Dam
Australian Champion,
Ormslee Elite Empress (AI)
HD: 4.9, ED B.1



Dam


Multi V rated,

Ludendorf Fallon (AI)

HD 3.3, ED 0.0,
Scissors Eyes Clear




Sire
Multi V1, RUBISS,
Utz vom Hause Miles
SchH3 BH CGC RO-53691G71M-PI, RO-EL2180M24-T
HD 2.2 ED1.1
(re-xrayed in Australia )





Sire
Am/Can CH
Montclaire's Blitzkrieg CD
RO-32175G24M-T





Dam
Quendy vom Hause Miles
RO-45345F26F-T

Dam


Multi V rated,
Bailifscourt Aboss Aria (AI)
HD 1.4, ED 0.1
Scissors, Eyes Clear




Sire
Select American
Champion
Boss vd Biestse Hoeve
SchH III, CD,TD, BH,
ZtP, CGC,
ARC Silver Sire,
RO-24301G25M,
RO-1197



Dam
Australian Champion,
Ormslee Elite Empress (AI)
HD: 4.9, ED B.1


Click here to view an extended pedigree for Chevy