Welcome to our place on the internet.

Stolzsein Rottweilers is Samantha Bradley and Mark Anderson and we have owned Rottweilers for over 25 years. We are proudly Australian and are located in Melbourne, Victoria.

We enjoy exhibiting our dogs at Rottweiler Specialty Shows as well as All Breed Shows. We also enjoy Obedience and Tracking, and now we are also participating in ANKC Herding with our dogs.

Stolzsein is registered with the Australian National Kennel Council (ANKC). We abide by the National Rottweiler Council [Australia] - NRC[A] requirements for HD, ED, Eye and Mouth certification. We also abide by the Code of Ethics imposed by the State Breed Clubs that we are members of and those of Dogs Victoria; formerly known as the Victorian Canine Association.

Member of a number of Rottweiler Clubs around the country and also a member of Broadmeadows Obedience Dog Club and Dogs Victoria.

The Rottweiler is a total all round utility dog, he is a working dog, a loyal companion and a great family dog. The Rottweiler's willingness and ability to work is just as important as his health and beauty.

When we plan a litter we place a great emphasis on producing Rottweilers that are mentally and physically sound and which can successfully compete in a number of disciplines including Dog Sports and Conformation. Our litters are raised in our house where they get extensive socialisation and stumuli from day one.

The total all round Rottweiler is what the Breed Standard calls for and what we always strive to produce in each and every litter here at Stolzsein.

At this site you will find information about our dogs and others, as well as lots of Rottweiler information and links. Please let us know you have been to visit by signing our guestbook.
---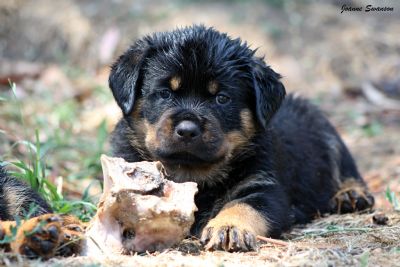 This webpage last updated 25 May 2018

*** Planned litter, will confirm soon - due end of July ***

*** Ch Stolzsein Livin On The Edge TD ***

*** Frozen Semen for sale ***
---
Copyright © 1996 - 2018 Stolzsein Rottweilers.
Copying of photos without specific written permission is strictly prohibited.
All rights reserved.
139505 Visitors